Winter Wine Walk
The Winter Wine Walk was a success! It was so nice to see our clients and have a glass of wine with you.
For those who did not attend, we will give you a little background on this fun event that kicks off the Winter Season in Windsor. The Winter Wine Walk is an annual Wine & Foodie event that takes place inside the businesses of the Windsor Town Green. You purchase a ticket, for the low cost of $45 at Mark Shimizu Designs 9070 Windsor Rd, Windsor, CA 95492.
You are given a map, a stamp card & wine glass. Participants are then sent on a walk, each business participating has a number on their door (On Fleek Studio was stop #2). You go in, get stamped and get a yummy Wine & Food pairing AT EACH STOP. Winter Wine Walk 2017 featured 16 stops, each with a unique food and wine pairing! The stores participating are all retail establishments, which means they have things on sale. This event is a great way to keep your holiday shopping local.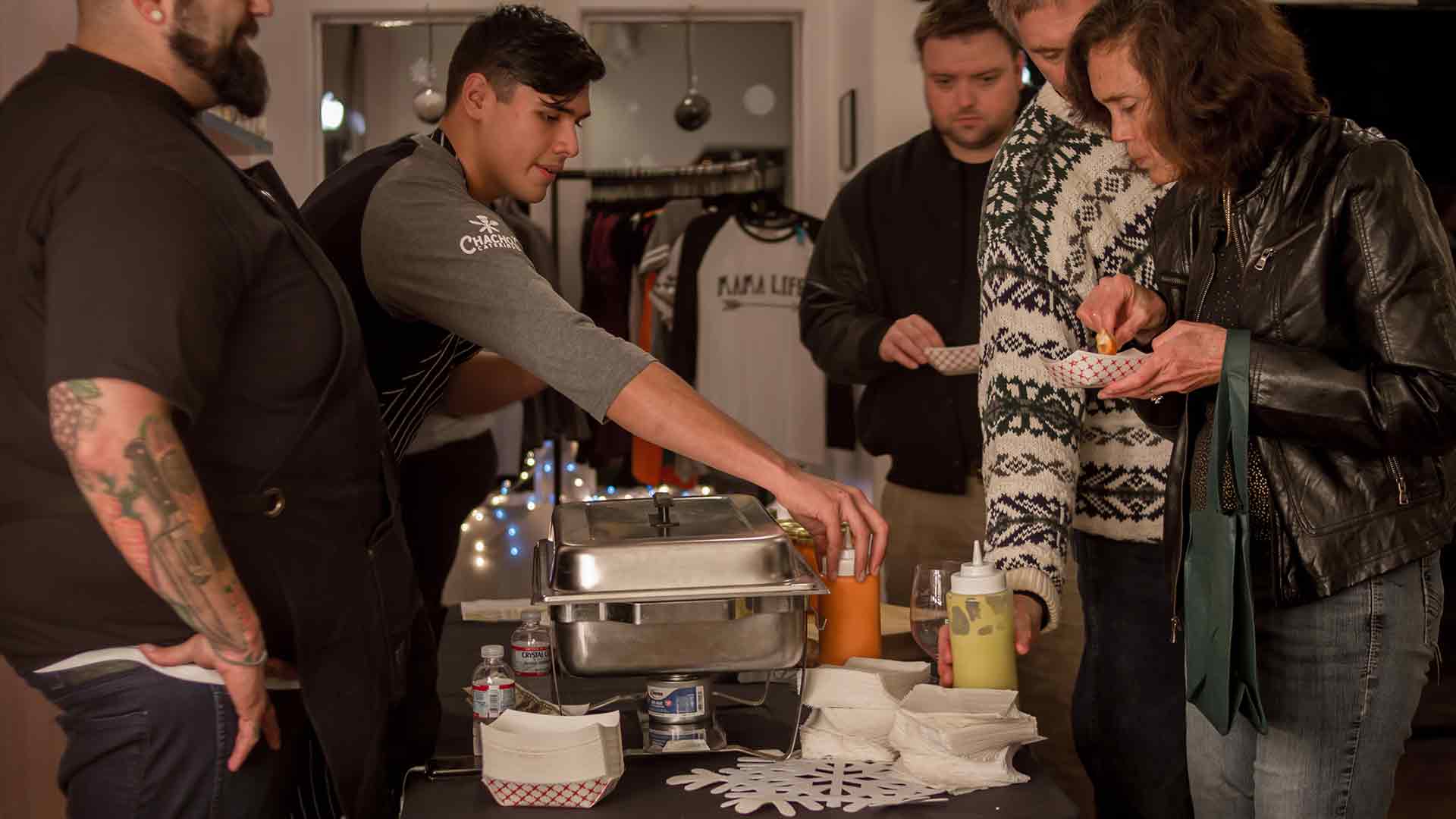 Insider tip: most business offer deals exclusive to Wine Wine attendees!
Speaking of, let's talk a little about the food & wine we had featured at On Fleek Makeup & Wax Studio during the wine walk. Our featured Winery Rancho Maria Vineyards, brought a delicious Rosé & their signature  Zin. Rancho Maria Vineyards is a small family owned winery located out in the Dry Creek Valley of Healdsburg. Last Summer they opened their tasting room lounge in beautiful downtown Sonoma at 481 1st Street W, Sonoma, CA 95476. Go visit!
Our featured food was prepared by Chacho's Catering Co. The owner, Sergio Valencia, brought an exquisite grilled Moroccan chicken skewer with choice of two sauces.
Moroccan chicken that I've tasted and learn how to cook so it stays super juicy, by the women of the household we stayed at in Casablanca, Morocco. The Romesco sauce is Spanish which I came across in Valencia, Spain. The Jalapeño Salsa is a recipe my aunt passed on to me. We are a very diverse menu, inspired by the travels I've done, the culinary blood that runs in the family, and the inspiration to make people happy. '
One sauce was a green jalapeno sauce with a kick, the other was a savory red romesco sauce. Sergio is a renowned chef, he caters everything from private dinners to weddings. Learn more about Chacho's Catering Co here.
There are 300 tickets sold for this event, which typically sell out within a few days. It is usually the second week of November, before Thanksgiving. Keep an eye out for Winter Wine Walk 2018, Happy Holidays!