Lash Extensions vs Lash Lifts
Lash Extensions and Lash Lifts are both great ways to accentuate your look. Lash Lifts enhance the look of your natural lashes. Lash Extensions are best for someone who may not have long or full lashes and can range from any look you desire (natural – dramatic).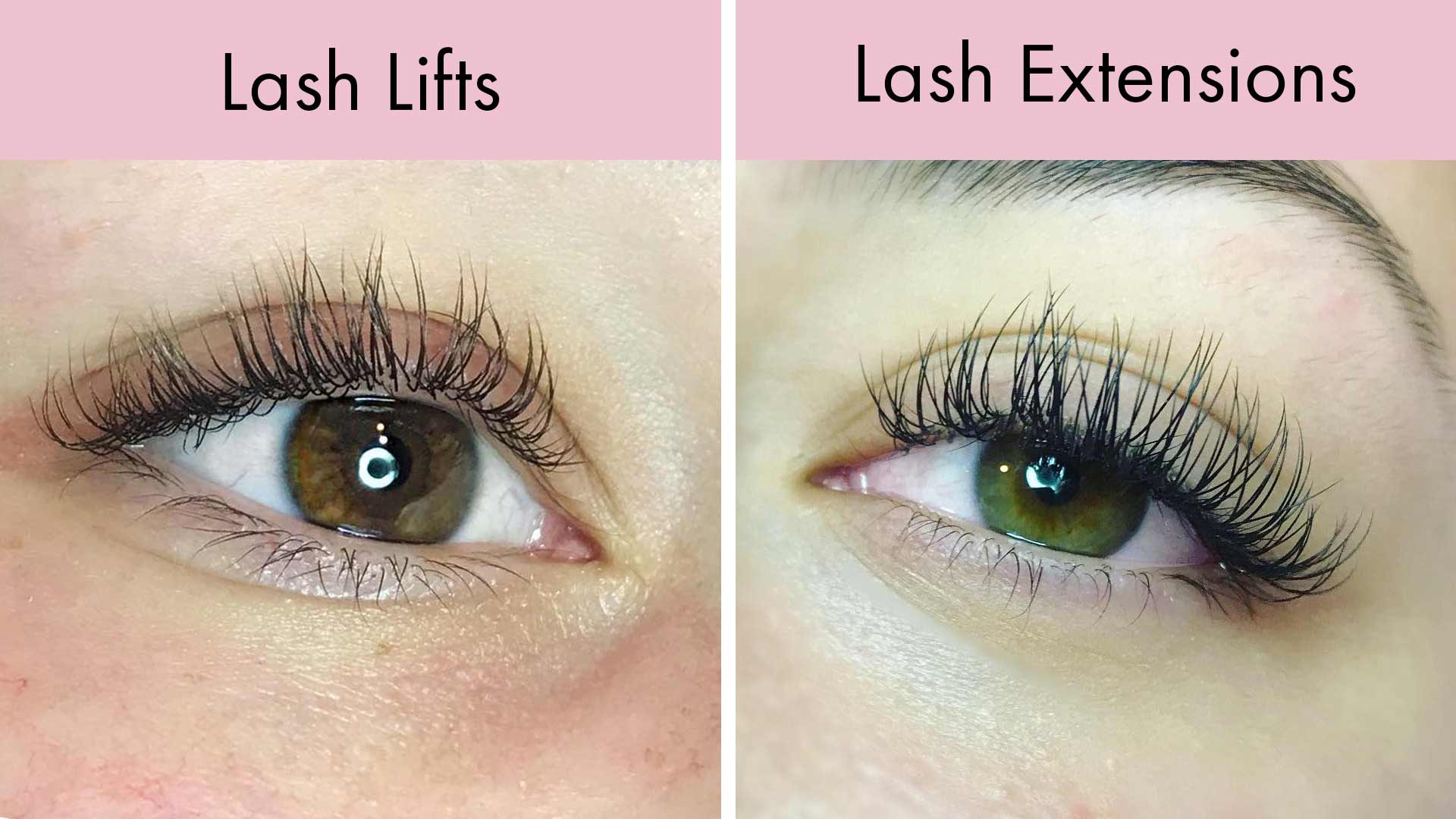 Which service is right for you?
The Lash Lift
A Lash Lift is like a perm for your eyelashes that will keep your lashes lifted and curled. Lash Lifts typically last for 4 to 6 weeks. They require little maintenance and have little to no restrictions.
Lash Lifts Pros
Natural look
Can apply makeup on them after 24 hours
Can use a lash growth serum after 24 hours
No more damaging eyelash curler
Uses your natural lashes
Can add a lash tint for a more dramatic look
The Process
Lash lifts are about a 45 minute process. We start by cleansing the lashes then carefully and meticulously gluing them to a lash shield. Lash Lift solution is applied to the base of the lashes for 8 minutes, then it is removed. Neutralizer is applied for 5 minutes then removed. The shield, glue and under eye pads are removed and a styling gel is applied for protection and shine.
 Aftercare
You cannot get your lashes wet for 24 hours.
Lash Extensions 
Lash Extensions give have many different styles & types to choose from. Your Lash Artist will decide which look to go with based on the clients desired outcome & the health of your natural lashes.
There are Classic & Volume lashes with styles ranging from Natural, Luxe & Dramatic.
Classic Lashes are performed by attaching one lash extension to one natural eyelash. This option is better for someone with full lashes (any length).
Volume Lashes are performed by using fans, which can be 2-12 lash extensions attached to one real lash giving a more filled in, darker look. This option is better for someone with sparse lashes (any length) or someone wanting a fuller look.
Volume Lashes are not necessarily longer than Classic Lashes. The same lengths are available in both types. Because Volume Lashes are fans, they take up more space than Classic Lashes making them fuller and a better option for someone with sparse lashes.
With Lash Extensions you do not use or need mascara which makes it much quicker to get ready in the morning. To maintain great looking lashes we recommend getting a Lash Fill every 2-3 weeks.
Eyelash Extension Pros
Many different styles available custom to clients needs
Wake up feeling beautiful without needing to spend time applying makeup
Not damaging to the natural lash so long as you take care of them and see a trained certified Lash Artist
Can be removed at any time
The Process
The initial appointment is usually around 2 hours. The Lash Artist will decide on which type of lash style works best for you. She then will begin by taping down your bottom eyelashes to keep them from getting in the way. She will then cleanse your lashes with a pre-treatment, this is done to remove any excess oil or dirt to be sure that the lashes can maintain their best retention. Now it's time to lash! Your lash artist will begin gluing lash extensions to your real lashes. Once finished, she will use the Nano Mister to help cure the adhesive and remove the tape.
Aftercare
Aftercare is crucial in maintaining healthy Lash Extensions. Our aftercare is as follows: Do not get your Lash Extensions wet for 24 hours to ensure that the adhesive cures properly. Do not use mascara on the top lash line, bottom is okay. Do not pick or pull at your extensions. Wash your lashes everyday with a cleanser designed for extensions to remove any build up and avoid any irritations/infections. Avoid creams and oils around the extensions because oil breaks down the adhesive. When choosing an eyeliner, pick one that is a water-based liquid or powder. To avoid squishing your eyelashes, try to sleep on your back or your side. Brush your lashes daily and only when they are dry. Book regular fills every 2-3 weeks.
Good lashes & brows make the biggest difference in your mood.
All of our Lash Artists are Borboleta Certified.